Mengvoer: Japanse oesters & het recht op privacy
19 December, 19:30 uur Grand Theatre Groningen
This night I will participate in the Mengvoer event organised by Goldmund, Wyldebeast & Wunderliebe. The night will exist of two talks given by two speakers, whose topics seem to have nothing in common.. However, together with the public the speakers will look for common grounds. I am one of these speakers and I will talk about the Pacific oyster population in the Wadden Sea. I will join the stage together with Tijmen Schep, technologist and privacy designer, who will talk about privacy. (Un)fortunately, the talks will be in Dutch, but if you are nevertheless interested, tickets can be bought here. Below follows the description in Dutch.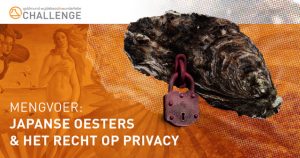 2 sprekers, 2 onderwerpen, 0 samenhang ? Sprekers over onderwerpen die op het eerste gezicht niets met elkaar te maken hebben gaan samen met het publiek op zoek naar een gemeenschappelijke basis. Het evenement is georganiseerd door
Dinsdag 19 december, 19:30 uur Grand Theatre Groningen. Koop hier je ticket.
Twee sprekers krijgen ieder 30 minuten voor hun eigen verhaal, zonder dat ze een verbinding met elkaar maken. Na afloop gaan de sprekers en het publiek met elkaar in discussie en borrelen er nieuwe ideeën op, die alle kanten op kunnen gaan.
1 – Japanse oesters Ft. Anouk Goedknegt
Anouk is marien ecoloog en is onlangs gepromoveerd op haar onderzoek naar de uitheemse Japanse oester populatie in de Waddenzee.
2 – Het recht op Privacy Ft. Tijmen Schep
Tijmen is een technologiecriticus en privacyontwerper en helpt burgers, ontwerpers en beleidsmakers nieuwe kansen en uitdagingen te begrijpen in onze gegevensgestuurde samenleving. Tijmen is verbonden aan Setup uit Utrecht.